Hey Guys,

I'd like to start off by apologizing for my some-what tired looking face in this post. I've been busy as hell and I have the oddest sleeping habits. Being Busy is GRAND though... I'm such a spaz when I have free time.

I grew up with two older brothers. When you see my post where I talk about Wrestler's fashion or where I roam through Comic-Con amongst other things... You can surely bet your tuckus there's been a lot of male influence in my up bringing. Speaking of Comic-Con, When I attended last year and did a bit of coverage, I visited one of the Capcom booths where I got to play around with Okami.

Okami is a magnificent, magical game created by Capcom. The games art alone will leave you intrigued and curious to learn the story behind that video game. Long story short: There was a village... It got destroyed by a curse, now there's monsters roaming everywhere... Amaterasu wolf embodied sun God holds the Celestial Brush and only he can save them. You dig me?

You literally get to draw in the game with the Celestial Brush! I find that pretty awesome because you feel more in control. It's truly a great concept. The art style in the game is so vivid and enticing. I was enamored by the dedication employed by the Capcom art team. The detail toward the traditional Japanese cherry blossomed landscapes make the damn screen look like it's about to pop out!! I'm truly running out of descriptive words here... It's something you must personally experience to really know what I mean. It's quite the experience and has received/earned remarkable reviews all over.

While I was at the booth, I spoke to someone from Capcom who very politely informed me about the game (Okamiden available for the Nintendo DS) and what was going on. He proceeded to give me this free limited edition T-shirt (From Okami)! Isn't it awesome? It often gets complimented by people who don't even know it's a video game, which I find funny.

Something about Wolves has always attracted me. Maybe I've just read Kelly Cutrone's (AKA: Mother Wolf) book one too many times. Perhaps in another life I'd be a Wolf.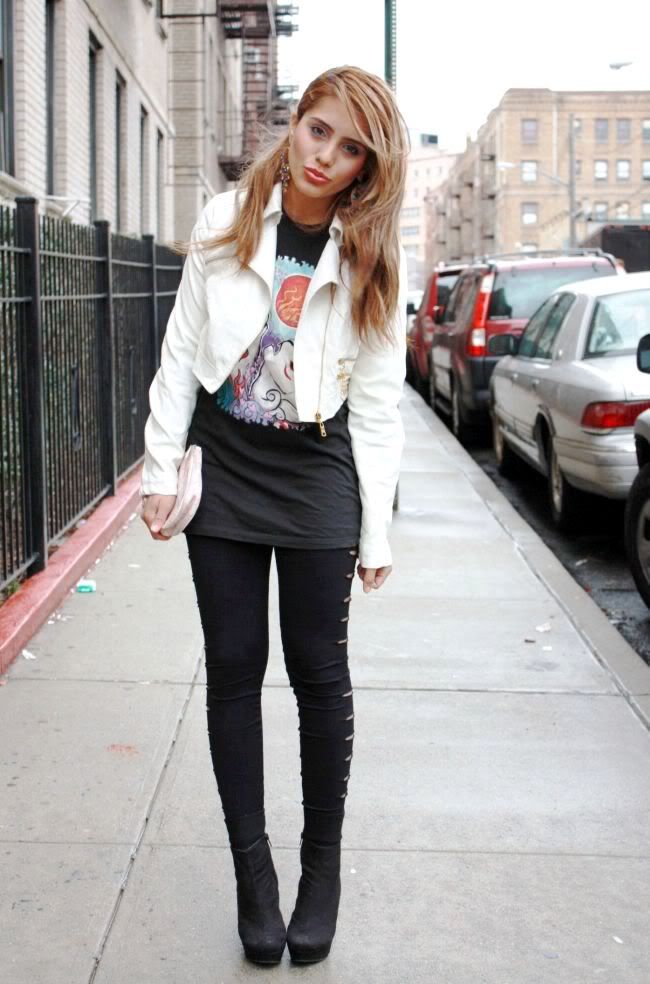 Wearing: Bebe leggings with DIY slits on the side, Okami T-shirt, Carmin white leather jacket, Forever 21 wedges, Dior purse I use as a clutch.
Leather biker jackets are so awesome right now.