All The Small Things....
Hey Guys,

I wanted to make a quick post. I am literally about to run out my door and meet someone (who's probably going to kill me for being late) but I said on my Twitter I would post later today so BAM! Here I am.

There has been a lot of color on my mind lately amongst other items and trends for spring. But not everything has to be a bold article of clothing. At times, like many things in life, small things can go a long way. Here are a few things I wanted to share with you.

Nails: I decided to make a rainbow on my hand. This is just really fun and funky. If I was wearing an all black outfit this would definitely pop! Like I said, it's the small things sometimes. Also accessories will be a big thing this Spring. LOAD UP! (All of these colors are from "Sinful Colors" $2.00 at Walgreens)

Flat Forms: I got these Puppies at ShopBop a few days ago. They're designed by Joe's. I love these! They make me feel taller and like an super chic Frankenstein! Plus the straps on the side give them an urban glare I very much appreciate.

Lastly on my small list: Color Eyeliner, Braids, Fun with hair

Color for your bottom eye is fun. I suggest you learn the rest of your make-up pretty neutral if your going for this look. I'm wearing an Urban Decay eye shadow I applied with an angle brush. The lip balm I'm wearing is from Twist and Pout. DON'T FORGET TO ENTER MY GIVEAWAY BELOW!

I am all about braids this Spring... Seriously. But that will be a whole different post. What I meant by fun with hair is.... Well this is a very inexpensive color extension from Claires (it's probably like $3.00) and I just hid the clip in the back of my hair.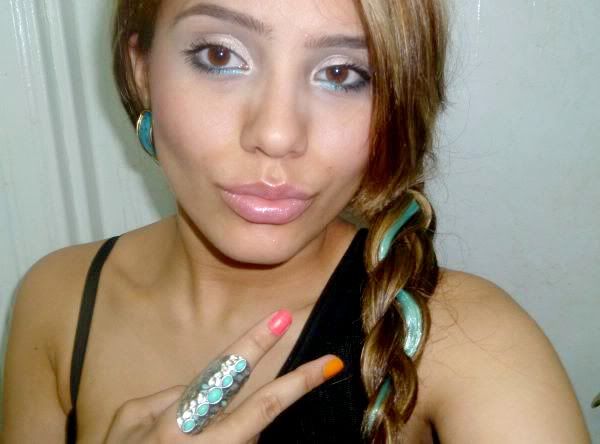 DETAILS.. DETAILS... Well sorry if I have spelling and grammatical errors but I don't have time to check and I'm sure you can still love me with flaws and all right :-/ ... Plus who are we kidding, I always have errors anyway. I'm more of the poet not journalist.

Toodles

Xo Nubia Xo

P.S. Support My Blog: Follow my blog on Google Reader here or on BlogLovin here. Follow me on Twitter to keep up with more of my Nonsense here. Thank you!