Hello lovely readers!

Let me just say I love this shade of pink on my lips. This happens to be Lancome's La Laque Fever Electric Pink. I don't think this picture really does it justice. It's very glitzy and glamorous, great for nightlife or for me personally a nice spring day. No touch ups for 8 hrs! Honestly it does stay on very well, but I touch it up sometimes. It might just be a habit. Anyway, I give it the big thumbs up if you like electric colors.


On another note, I will be covering this event and I'm super excited for it at DEEN boutique. Owner Shez will be celebrating the 2 year anniversary of her store by having a fashion show. It should be very fun and she has some amazing talented designers at her store. She has a great space in Jersey city. Her store has a very Urban Outfitters feel to it, its very trendy and she sells a few unique household items as well.


"Deen is a lifestyle boutique located in the heart of the Powerhouse Art District in Downtown Jersey City. Deen brings the edge of a SoHo shopping lifestyle to a location like no other. Deen carries a unique mix of designer labels as well as new designers hitting the fashion industry. The boutique is like no other, with fashion basic looks for women and men as well as home décor and pet goods. Deen is your one stop shop for fashion and unique styles. The Fashion world is changing every day, Deen is here to make your shopping experience simple, relaxing and fun. Stop by our retail location for the latest fashion trends and the best customer service."

If you are able to stop by this event you absolutely should. Become Deen's facebook friend
here
.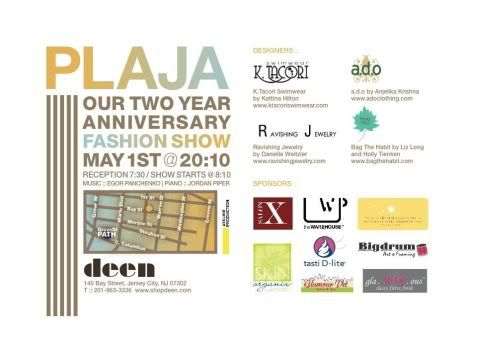 I hope Friday is 70 degree's, I really want to go to a museum! Enjoy your week =).
Ciao <3