Fashion Night Out Adventure
This past Thursday for Fashion Night Out was pretty crazy. I spent the day with Mary from gla.MAR.ous . We had a nice lunch at Gingers which is a great little Chinese restaurant on 7th avenue. I would recommend it they have great lunch specials and a decent happy hour. After lunch we went to a small park by 14th and 8th and spoke a little about work and our personal lives which is always fun and filled with laughs.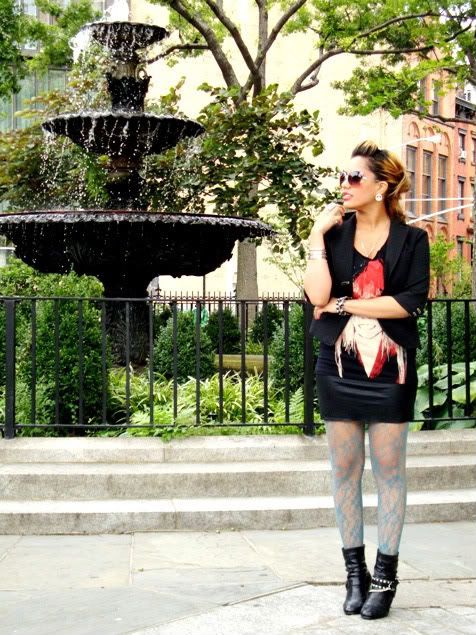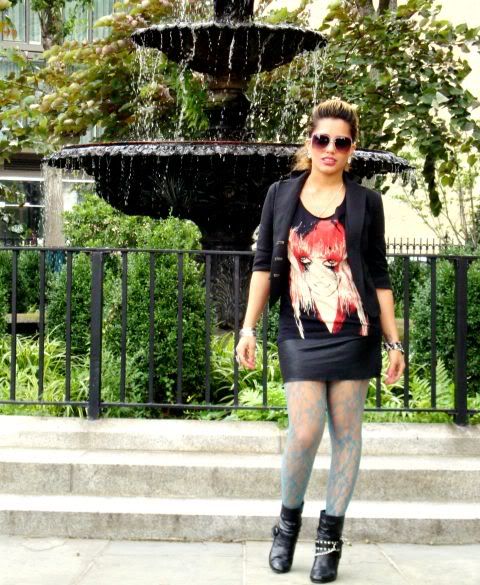 I'm wearing : H&M blazer,
Topshop
t-shirt, Lace stockings from Forever 21, American Apparel leather skirt, Boots from Beverly Boutique with
DIY
stud belt
Marys wearing: L.A.M.B
hoodie
, Shoes from a Boutique in Queens, Zana di Jeans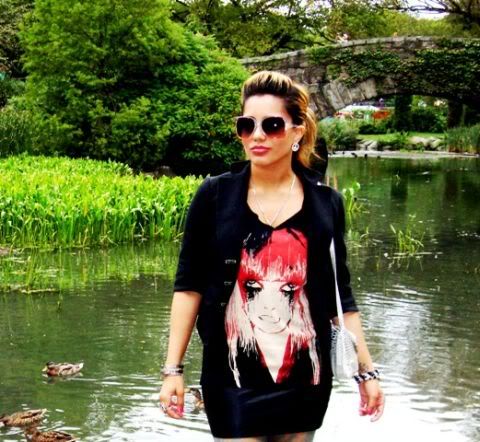 I was thinking about how this is always such a adventure filled week in NYC. Even if you
don't
have tickets for shows its always great and exciting to go around the tents and see all the models and the great street fashion. I remember in past events there even use to be vans a few blocks away giving free manicures and
goodie
bags etc. There are a lot of things you might find necessary to carry
around
. I think my most important items for a week that requires so much walking are..
A reliable pair of heels/boots. By reliable I mean make sure you can stand in them for
at least
10 hours with out crying.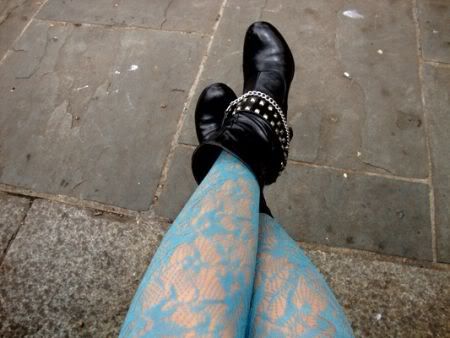 A fashionable/embellished pair of flats. I
don't
want my feet to end hating me. We all love to look gorgeous and glam in our heels but there is a point when enough is enough and you better make sure you have
Epsom
salt at home to drench your puppies!
Lastly Coffee. I find that
Starbucks
are becoming harder and harder to find. When I use to work on 39
th
and Broadway they were everywhere, I suppose in certain areas not so much.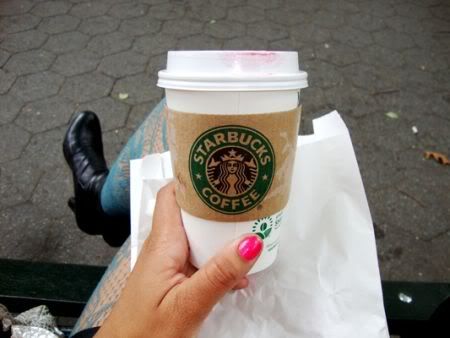 ** and also P.S I
don't
go anywhere without my blackberry and camera so
that's
a must for me everywhere.
I ended up going to barneys for
FNO
. It was pretty nice, complimentary
champagne
, appetizers flowing all over the place as there was everywhere. I snapped action shots, Enjoy!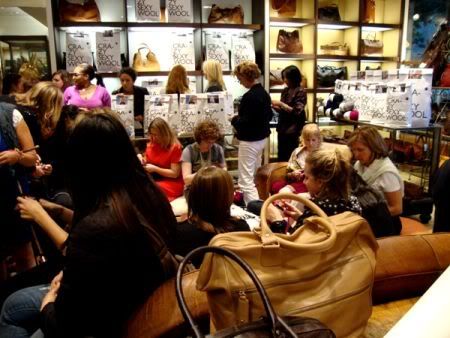 One of the first things I saw when I walked in was the Wool + The Gang. This is where I saw such a diverse group sitting on couches and learning to knit. People were making squares for a giant blanket that's going to be auctioned to benefit the National September 11
th
Memorial/Museum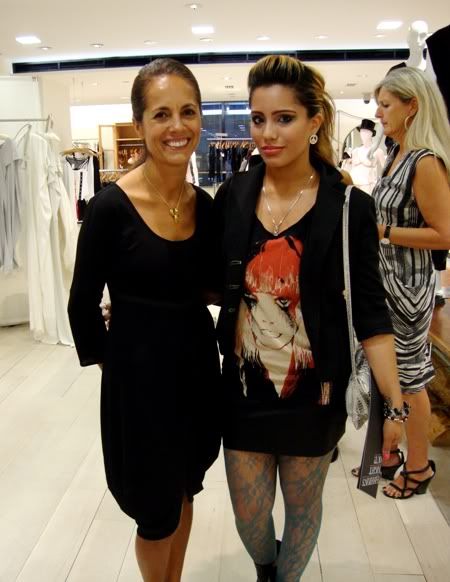 On the 6
th
floor I met the Lovely Maria
Cornejo
. She was extremely nice, such a sweet heart. While I was talking to her I told her I blog on my spare time and she asked for my card
mentioning
her daughter likes keeping up with fashion blogs. If your not familiar with her line you can click
here
.
Definitely
worth looking at! I was very
in love
with a jumpsuit displayed on a mannequin from her line.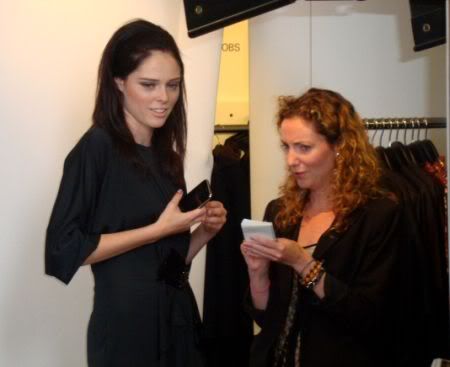 On the 7
th
floor I was able to snap this picture of model Coco Rocha getting interviewed. You got to make your very own flip book and make videos with her. Shes a beauty.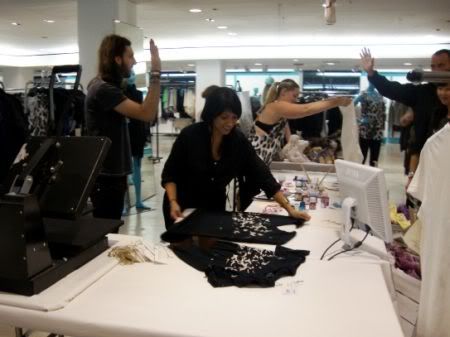 Here you see L
oomstate
artist hand painting Fashion Night Out T-shirts which I thought was pretty awesome.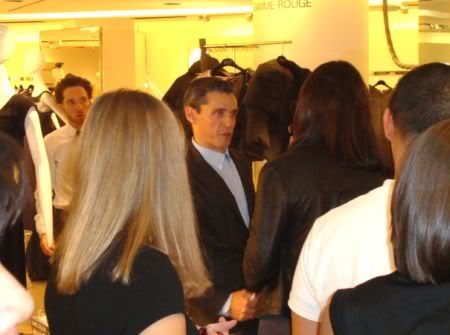 Isabel + Ruben were present on the 2
nd
floor signing copies of "Isabel Toledo: Fashion from the Inside Out"
th
floor! I am such a fan of his work and he was just stopping for everyone it was so adorable.
Manolo
Blahnik
was on the 4
th
floor signing shoes and T-shirts as well as greeting people.
Mary-Kate and
Ashley
Olsen showed up at 9 p.m on the
Men's
third floor for "The Row" but it was
insanely
packed I
didn't
really get to see them. On the bright side while I was leaving the Olsen twins Madness I bumped into the gorgeous Amy from
Midtown Girl
. I heard the
Olsen's
were easier to see at
Bergdorf
Goodman earlier, I wish I would have gone! There are so talented.
There was a lot more going on which you could check out
here
. Hope you enjoyed my coverage.